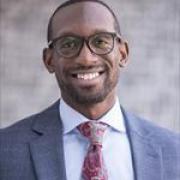 Jonathan Butler, PhD
Family Community Medicine
Dr. Butler is an Assistant Professional Researcher in the Department of Family and Community Medicine & the CeNter for the StUdy of AdveRsiTy and CardiovascUlaR DiseasE (NURTURE Center). He is a social epidemiologist and minister with interests in the role of religion, childhood experiences and psychological stress on health outcomes.
Dr. Butler is actively involved in projects in two primary domains: 1) psychosocial stress and type II diabetes risk and obesity and 2) Community Based Participatory Research (CBPR) focused on obesity across the life-course.
Dr. Butler was appointed to the SDDTAC by the San Francisco Board of Supervisors to represent a medical institution seat. Within the SDDTAC, Dr. Butler also serves as chair of the Data and Evidence Subcommittee. In this role, he organizes multi-disciplinary groups of Bay Area Scientists to advise the San Francisco Mayor about health care priorities. His service on this committee has long-term public policy impact for the Bay Area.