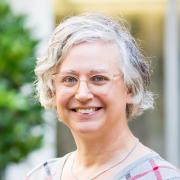 Maddie Deutsch, MD, MPH
Family Community Medicine
Madeline B. Deutsch, MD MPH is a Professor of Clinical Family & Community Medicine. She is the founding Medical Director of the UCSF Gender Affirming Health Program, a growing multidisciplinary group providing gender affirming medical, surgical, and mental health care within the UCSF Health System. Dr. Deutsch provides specialty consultation for and management of gender affirming hormone therapy, as well as primary care services for trans, non-binary, and gender expansive adults in the program's clinic based at 1725 Montgomery St. Dr. Deutsch also attends on a part-time basis in the emergency department at UCSF-Parnassus.
Dr. Deutsch serves as the faculty lead for the implementation of sexual orientation and gender identity (SOGI) data collection workflows at UCSF Health, and is a member of the Data Equity Work Group, which aims to develop systemwide data governance practices for race, ethnicity, language, sexual orientation, and gender identity data. Dr. Deutsch is also a Clinician Co-Lead for Diversity Equity, Inclusion, and Belonging at UCSF Health, and is a Faculty Leader for the UCSF School of Medicine Differences Matter Initiative. She uses telehealth technology to provide gender affirming hormone therapy to patients located remote to the Bay Area. Since 2006 she has cared for more than 4000 transgender patients. Dr. Deutsch serves as the editor of the UCSF Guidelines for the Care of Transgender and Gender Nonbinary People, which are accessed by several thousand individual visitors each month.
Dr. Deutsch was previously the Principal Investigator for a UCSF/RAP funded study of methods for collection of gender identity data in a clinical setting, a Co-Principal Investigator on a California HIV/AIDS Research Program to study HIV pre-exposure prophylaxis (PrEP) in transgender populations, and a Co-Investigator on a study of cervical cancer and sexual health screening approaches in transmasculine people, among other research endeavors. Dr. Deutsch is a member of the Editorial Boards for the journals LGBT Health, Transgender Health, and the International Journal of Transgenderism. Dr. Deutsch was the Chapter Lead for Primary Care for the 8th Revision of the World Professional Association for Transgender Health (WPATH) Standards of Care, serves on the WPATH Board of Directors, and is the current President of that organization's US chapter (USPATH). She served as the scientific chair for the USPATH 2019 2nd Biennial Conference in Washington, DC.
Dr. Deutsch has extensive experience in providing technical and capacity building assistance for clinics aiming to initiate or improve transgender care programs, and has in the past served as a consultant in transgender capacity building for two large student health centers and a Federally Qualified Health Center. She has delivered more than 200 national and international invited lectures. She has worked on international capacity building projects, including chairing a 2 day bilingual training on transgender clinical care in San Juan, Puerto Rico, meeting with the Vice President of Peru to discuss transgender health needs, and lecturing on hormone therapy dosing at the 1st International Symposium on HIV and Transgender People in Mexico City, Mexico. She chairs a biennial CME course at UCSF on transgender clinical care, and is the course chair of the annual Transgender Medicine elective course for UCSF health professions students. Dr. Deutsch has authored or co-authored more than 40 peer-reviewed publications and several textbook chapters on topics in transgender health and medicine.