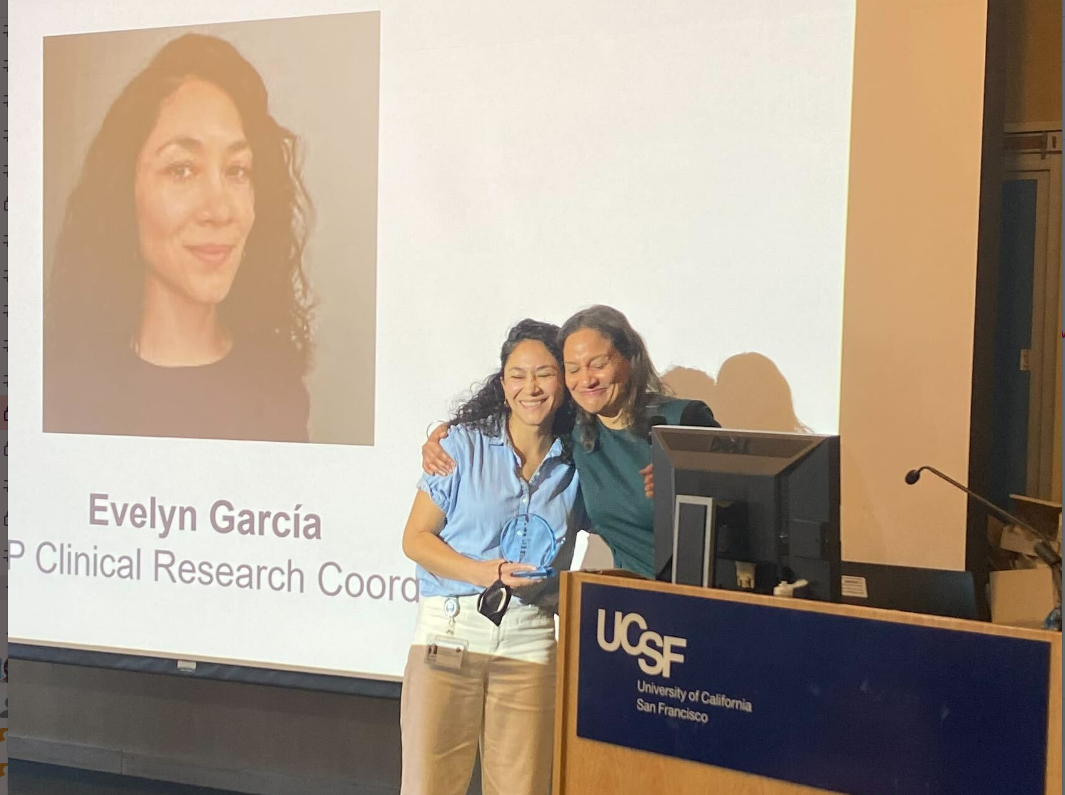 Ten FCM staff members were honored with the department's Shine awards recognizing individuals who demonstrated exceptional dedication and went above and beyond in supporting our teams throughout the past year. The awards were presented by FCM Chair Megan Mahoney (shown left with Evelyn Garcia) during her October 5 State of Department Address.
The Shine awardees are: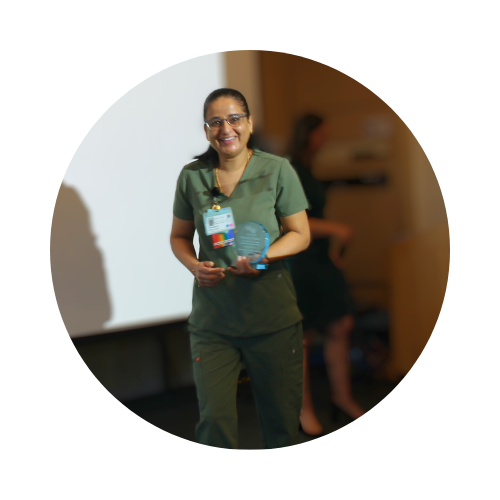 Sandeep Bhuller, a steadfast Medical Evaluations Assistant at the Family Health Center for nearly two decades, has been a key team member of the Family Health Center Blue TEAM. Her influence extends across various Special Access Clinics, such as Minor Procedures, Family-Centered Reproductive Health, TEAM Lily, and Stanley Jackson Family HIV, where she defined workflows and optimized clinical care. Beyond her professional roles, Sandeep stands out as a team builder, offering guidance to newer MEAs and FHC residents. She warmly welcomes them into the FHC family through initiatives like potlucks and TEAM celebrations. In embodying the essence of Family Medicine, Sandeep Bhuller is a remarkable role model for all.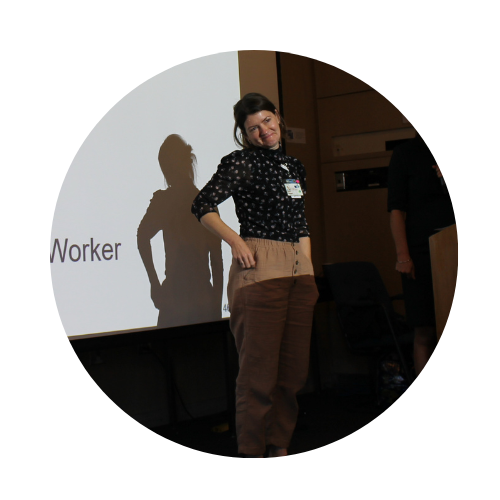 Allison Chapman, a remarkable medical social worker with nearly a decade of dedicated service in the skilled nursing facility at ZSFG, stands out as a paragon of skill, thoughtfulness, dedication, and tenacity. She collaborates closely with patients, families, the 4A TEAM, and complex outpatient units to orchestrate intricate discharges and care transitions. With patient goals at the forefront, she has enabled housing for those in need, facilitated repatriations to patients' home countries, prevented housing losses, and marshaled resources in the most challenging situations. Her dedication to our patients, her uniqueness, and her ongoing pursuit of knowledge in Traditional Chinese Medicine augment her healing skill.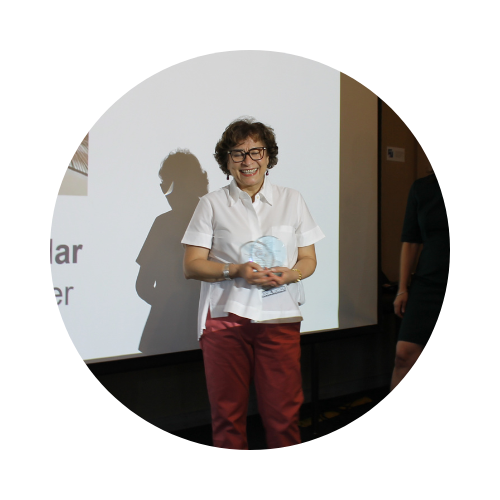 Gracia Cuellar, a dedicated social worker on the Family Medicine Inpatient Service for over two decades, stands as a beacon of expertise in handling complex discharge scenarios, consistently achieving milagros for our patients. Her remarkable contributions extend beyond her years of service; she serves as a trusted advisor and role model for her fellow social workers, who often seek her guidance. In recognition of her exceptional skills and unwavering commitment, Gracia was honored this spring with the SFGH Department of Care Coordination Antonia Pantoja Competence Award. Gracia Cuellar is a true pillar of our healthcare community. We present to you the FCM Shine Award!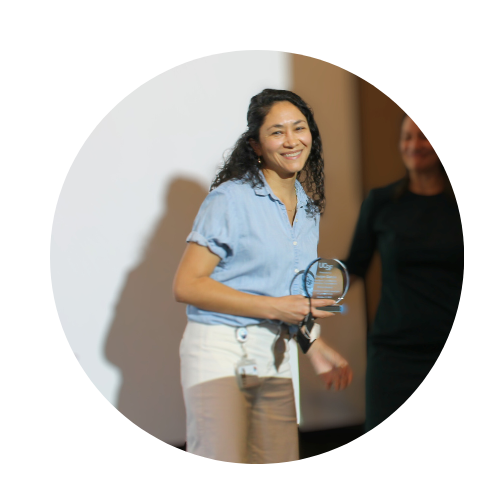 Evelyn Garcia, clinical research coordinator, has become an invaluable addition to the  FCM Research Community. Her professionalism shines through every facet of her role, with her commitment to personal growth and ability to ask critical questions. Evelyn has made substantial contributions to multiple research projects, particularly those focused on informed decision-making regarding female sterilization and the development of pregnancy acceptability measures. Furthermore, her role has expanded to encompass supporting communications and coordination within the FCM research community, participating in anti-racism in research workgroups, and leading the Person-Centered Reproductive Health Program's Patient Advisory Group. We proudly present Evelyn with the FCM Shine Award as a token of our appreciation!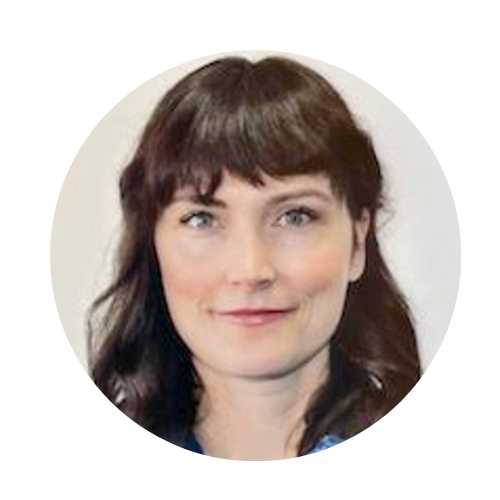 Erin Lutes has been an integral part of the UCSF community since 2012 and currently serves as a vital member of FCM, offering invaluable guidance in HIV and hepatitis prevention through the National Clinician Consultation Center (NCCC). Erin's contributions to the NCCC's training and education initiatives have been monumental, reaching both internal and external audiences across the United States. She is a strong advocate for equity and inclusion (?mention Kenya). Erin's dedication extends to our Departmental DEIA committee and the Racial Caucusing facilitator TEAM. We are immensely grateful and honored to recognize Erin Lutes with FCM's Shine Award for her transformative efforts in advancing diversity, equity, inclusion, and antioppression within our department!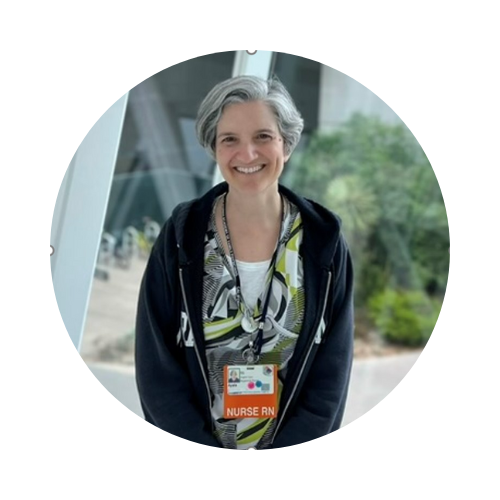 Ayala Mirande has worked in Urgent Care from the very beginning of the clinic in 1999.  Ever since, she has been a highly professional and competent nurse, a loyal and upstanding colleague, and a stalwart advocate for our patients.  She has not only adapted to numerous significant changes in the clinic over the years, but she has also helped facilitate those changes. Ayala serves as a shining example of how our staff members can make enduring contributions that align with our department's mission of enhancing health through excellence and innovation in patient care.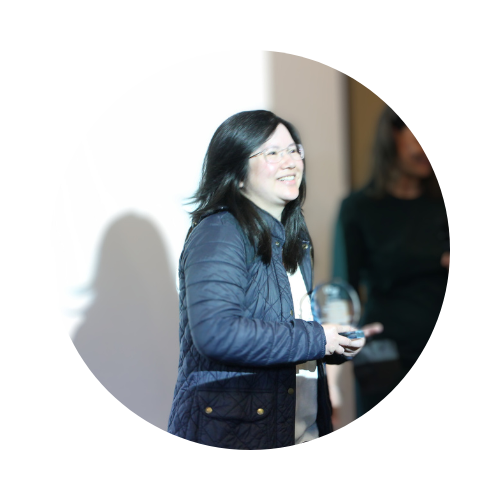 Sandy Ng plays a vital role within our department, managing a significant portion of our department's finances. As one of the most seasoned TEAM members, she seamlessly steps in to fill gaps and ensures the smooth operation of our UC Health services. It's worth noting that the Finance TEAM often operates behind the scenes and their contributions are rarely recognized. Therefore, we would like to express our gratitude to Sandy and the entire Finance TEAM for their essential work. We understand that our achievements are the result of collective TEAMwork, and Sandy's dedication is a testament to the collaborative spirit that drives our department forward. Thank you for all that you do!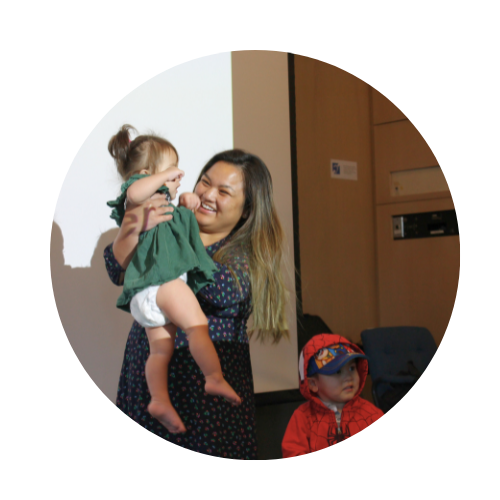 Kristine Roshani, a recent addition to our residency program as Program Coordinator, has made a profound impact in just six months, revolutionizing our approach to work. Kristine has infused a delightful sense of optimism and kindness, elevating our TEAMwork to new heights. In a short span, she has completed previously stagnant projects, streamlined systems, and navigated through bureaucratic complexities that had stymied us for years. Kristine possesses a unique blend of a focused, incisive mind and a passionate, open, and caring heart.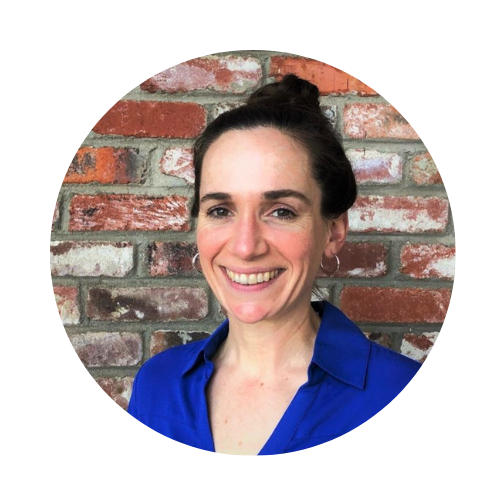 Emily Uphoff, Nurse Practitioner at Family Medicine Inpatient Service, holds a special place in our TEAM since becoming the first Nurse Practitioner on the Family Medicine Inpatient Service in fall 2020. In the past three years, she has seamlessly integrated into the TEAM, showcasing exceptional patient care and a deep understanding of the intricate SFGH system. Emily's expertise has proven invaluable, not just in her medical proficiency but also in her expert navigation of the complex logistical aspects within our healthcare setting. We present to you the FCM Shine Award!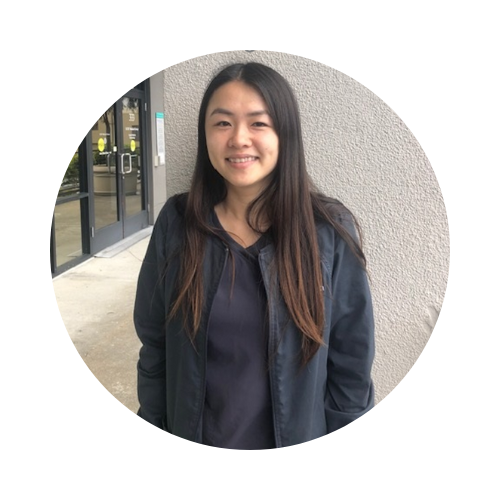 Lena Wei, a dedicated Medical Assistant at Lakeshore, deserves recognition for her outstanding work in managing the Message Hub. Lena has showcased remarkable growth and competence in her role, particularly following her return from maternity leave when she was assigned to this role by chance. However, it quickly became evident that this assignment was no mere coincidence. Within a short time, Lena displayed mastery of the message workflow, playing a crucial role in preventing delays in routing messages to the providers. Her contributions extend beyond her primary responsibilities; she consistently provides guidance to the TEAM. We commend her for her exceptional performance and unwavering commitment to excellence.