Family Medicine Faculty Development Fellowship Program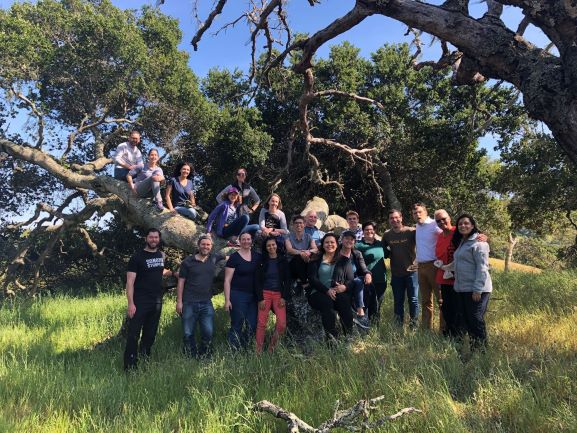 2018-2019 Fellowship Class
Since 1990 the UCSF Department of Family and Community Medicine has offered a Faculty Development Fellowship Program for faculty in family medicine residency programs and departments in Northern California. Over 300 fellows have completed the program, many of whom now hold leadership positions throughout Northern California.
This one year fellowship focuses on the knowledge, attitudes, and skills needed to be an effective faculty member. The fellowship meets eight times for three-day residential sessions, held monthly in the San Francisco Bay Area from October through May.
In the setting of a supportive learning community, the fellowship curriculum includes:
Teaching Skills
Curriculum Design and Evaluation
Leadership Skills
Professional Development
Scholarly Work
For more details about our curiculum and Fellows testimonials click hereclick here
Applicants must be sponsored by their residency directors or program chairs. We accept 18 fellows annually. First priority will be given to faculty who currently hold or are entering teaching positions at a family medicine residency program or department. We also accept applications from other primary care specialties as space permits. We place priority on recruitment of applicants who are underrepresented in medicine.  
There is a tuition fee of $12,500 to cover costs of fellowship faculty, training materials, facility use, and other expenses. Inquiries may be emailed to [email protected]  Applications may be submitted by clicking on the How To Apply button below:
Faculty Development Intensives:
Our faculty also offers faculty development intensive specific to your program.  For more information click here
UCSF Primary Care Research Fellowship
The UCSF Department of Family and Community Medicine has, since 1998, offered two-year full time fellowships for individuals wishing to prepare for careers that will include research in the field of Family Medicine. Beginning in 2008, we joined forces with the UCSF Division of General Internal Medicine to create a new joint Primary Care Research Fellowship to provide a broader range of research and training opportunities for fellows, as well as a larger critical mass of fellows with whom to work.
Family physicians participating in the joint program will also have additional activities unique to family medicine, including
Patient care and teaching at one of our department's clinical sites
Participation in the monthly Family Medicine Department Research Seminar
Semiannual review sessions with DFCM research faculty giving personalized feedback to each fellow on progress and career planning
The opportunity to collaborate on research projects with family physician mentors
The UCSF Primary Care Research Fellowship offers a unique opportunity for recent family medicine graduates interested in pursuing a career that includes research. UCSF has one of the top academic departments of family medicine in the country with a very strong research program located in one of the world's premier academic medical centers.
Contact
Potential applicants should follow application instructions on the joint fellowship website at http://dgim.ucsf.edu/education/fellowship/research.html.
For questions specifically related to participation of family physicians in the program, please contact Diane Rittenhouse, PhD, [email protected].
The University of California, San Francisco (UCSF), Fellowship in Family Planning began in 1991 as the first Fellowship site. Primarily based at San Zuckerberg Francisco General Hospital (ZSFG - the city and county hospital of San Francisco), UCSF's unique program allows fellows to participate in a fully integrated clinical and research environment. Fellows work directly with leaders in the field of family planning, conducting clinical trials, epidemiological studies, qualitative research, policy evaluation, and international training and research. Fellows provide clinical care at one of the largest second-trimester outpatient clinics in the country. In addition to all OB/GYN subspecialty fellowships, UCSF has fellowships in infectious diseases and women's health epidemiology.
Program length: 2 years
Program application deadline: Applications for the Fellowship in Family Planning are only accepted online www.familyplanningfellowship.org. The application deadline is May 31 for ob-gyns and July 31 for family medicine.
Program Directors: Director: Jody Steinauer, MD, MAS, Co-Director: Philip Darney, MD, MSc ; Associate Director: Jennifer Kerns, MD, MAS, MPH.
Director for Family Medicine: Christine Dehlendorf, MD, MAS