This year due to the COVID-19 pandemic we hosted our annual Rodnick Colloquium entitled: "Family Medicine in the Time of Coronavirus" via Zoom.  Almost 300 participants from our UCSF community and Family Medicine Education Alliance tuned in for a day filled with education and innovation. This year's plenary panel feature five experts in Family Medicine presenting the impacts of COVID-19 and how our leadership is shaping the community's COVID response. We thank you for your continued support of the UCSF FCM Jack Rodnick Colloquium.  To learn more about the events that took place, please see the links and agenda below. 
UCSF Department of Family and Community Medicine
Rodnick "Virtual" Colloquium 
May 28, 2020
Opening Plenary Session
11:00 – 12:00 – Plenary "Family Medicine in the Time of Coronavirus"
Panel highlights impacts of family doctors in shaping our community's COVID response
Panel Moderator – Kevin Grumbach MD

Hali Hammer MD (Directing the SF DPH's Ambulatory Care Response)
Rita Hamad MD, PhD (Applying Social Epidemiology to Promote Health Equity)
Jennifer Karlin MD, PhD (Sustaining Women's Health in the Pandemic)
Jonathan Butler PhD (Engaging the Community Response to COVID)
Josh Bamberger MD (Advocating for Individuals Experiencing Homelessness)
*Click this link to view the  Plenary   
12:00 – 12:20 – "Family Medicine's Got Talent!" + Alliance Education Awards + Hope Quilt
Alliance Education Awards – Margo Vener MD

Collaboration in Education 
Promotion of Diversity, Equity and Inclusion in Education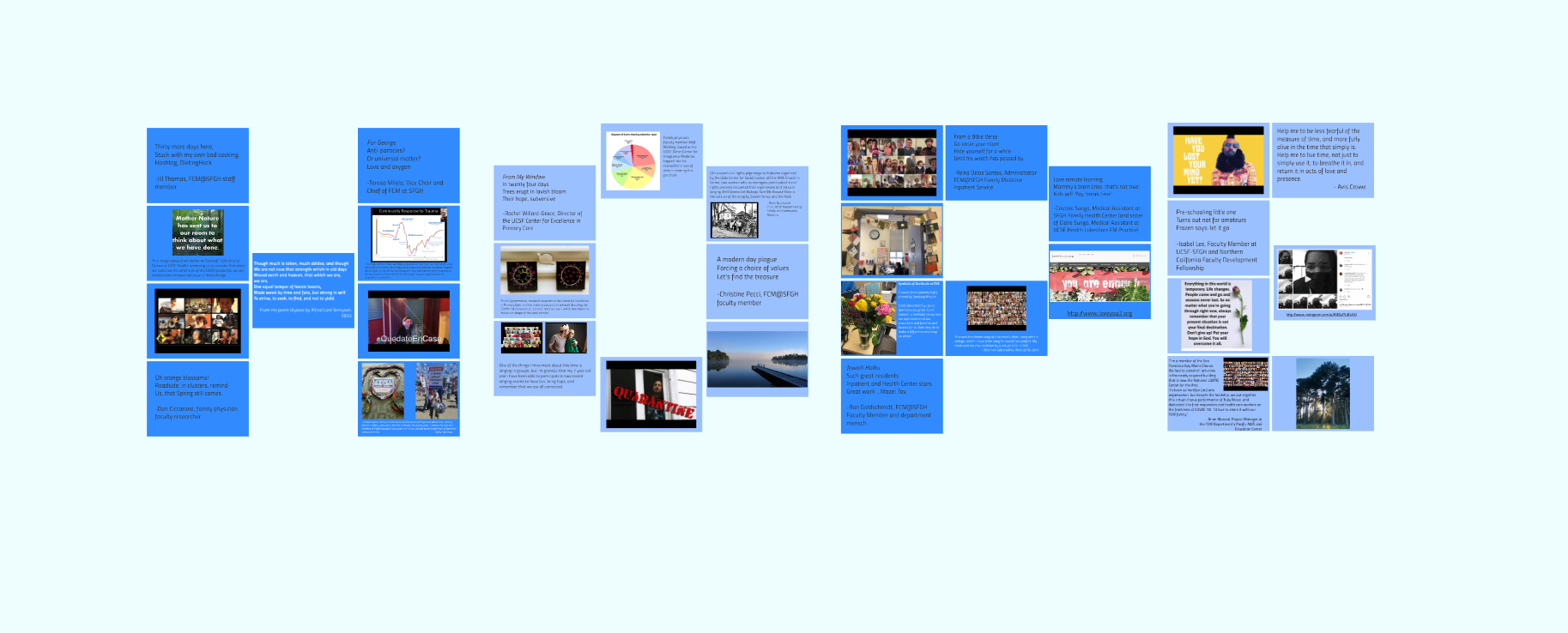 "Family Medicine's Got Talent!" – The 2020 Talent Show!
(Clink the individual links below to enjoy the talent show)
Afternoon
Click here to see List of oral presentations
Click here to see poster presentations
12:30 – 12:50 - Poster Discussion Sessions (posters can begin to be viewed on May 26, 2020)
Participants encouraged to view posters prior to discussion.
Primary Care: Excellence and Innovation
Behavioral and Integrative Health
Promoting Wellness and Human Connection in Medical Education
Addressing Social Determinants of Health
Quality Improvement in Graduate Medical Education
Curriculum Design and Assessment in Undergraduate Medical Education
1:00 – 1:50 - Session I  
Understanding and Promoting Health Equity – Oral Presentations/Discussion
Innovations in Clinical Care, Session 1 - Oral Presentations/Discussion
Empathy Can't Be Outsourced – Workshop - Shannon Weber MSW
Taking the Next Step on Social Risk Screening in Your Clinic – Workshop - Yuri Cartier MPH, Emila DeMarchis MD
2:00 – 2:50 - Session 2
Integrating Social, Behavioral and Medical Care in Health Settings - Oral Presentations/Discussion
Innovations in Clinical Care, Session 2 – Oral Presentations/Discussion
Advancing Medical Education - Oral Presentations/Discussion
Addiction Treatment:  California Bridge 24/7 – Workshop – Hannah Snyder MD
3:00 – 3:50 – Session 3
Maternal and Child Health – Oral Presentations/Discussion
Addiction Medicine – Oral Presentations/Discussion
Community Outreach – Oral Presentations/Discussion
Building a culture of scholarly activity among residency faculty and residents – Workshop - Brooke Harris PhD, Samuel Ridout MD
4:00 - 5:00 - COVID Policy Implications: How is the pandemic impacting our world? What happens next? How do I get involved?
Panel and Small Group Discussion
"Headlines" Panel (4:00-4:30) – In one large combined panel, experts will share their perspective on key implications from the pandemic and highlight headlines of emerging issues. This "teaser" session provides a big-picture perspective on the vast implications of COVID and also helps you select which small group you want to join for deeper discussion.
Panel moderator - Margo Vener MD
Please click here to see the Headline Panel 
"Deeper Dive" Discussion Groups (4:30 – 5:00) – Please join the discussion group that best fits your interests. In these small groups, you can share ideas with experts and colleagues, discuss how to get involved, and brainstorm important next steps.
Health care finance and payment reform

Kevin Grumbach MD, Jeremy Fish MD

Structural racism 

Lydia Leung MD, Manuel Tapia MD, Monica Hahn MD

Homelessness response

Paula Fleisher MA, Josh Bamberger MD

Environment, food sourcing and pandemic prevention
COVID impact on family medicine education

Brian Johnson MD, Diana Coffa MD, Tara Scott MD

TeleMedicine: Who are we reaching, who doesn't answer, and what do folks prefer?

Danielle Hessler PhD, Laura Gottlieb, MD, Trish Hiresote DO, Rachel Friedman MD, Emilia DeMarcis, Mike Potter MD

Who is getting flattened under the curve, and how can we prevent it?

Eva Raphael MD, Rita Hamad MD PhD, Beatrice Huang BA, Caroline Fichtenberg, PhD
History
The annual Family & Community Medicine Colloquium on Innovations in Family Medicine – dedicated in 2008 to Jonathan Rodnick, MD – celebrates the best of the work being done in family medicine at UCSF. Each year, the colloquium:
Provides a forum to showcase the most innovative work of department members and medical students in many areas, some of which include clinical care, community engagement, education, and research;
Enhances collaboration within the department; and
Fosters mentorship opportunities for medical students interested in family medicine and residents in our family medicine residency training programs.
Past Programs
Support
Former FCM Chair Jack Rodnick dedicated his life to improving medical education and serving UCSF faculty members and students and the greater San Francisco Bay Area community. We can think of no better way to honor his memory and years of dedicated service than to have his name and life's work memorialized by the colloquium and by creating a grants program to assist individuals to take their initial steps as scholars in family medicine. Please consider helping us to honor Jack's legacy by contributing to this important educational event.
For online donations, please click here. Under "Choose a designation," please choose "Jonathan Rodnick Memorial Fund."
You may also donate by mail; please click here to access the printable donor form.