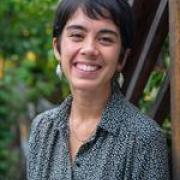 FCM's Abbey Cliffe has been named UCSF's 2022 Clinical Research Coordinator (CRC) of the Year.
Abbey joined FCM's Person-Centered Reproductive Health Program (PCRHP) as a CRC in 2019. During this time, she has proven to be an invaluable partner on their research projects and member of the wider community, demonstrating unwavering dedication to PCRHP's mission.
As a Research Coordinator, Abbey consistently exhibits critical inquiry and shares unique insights, takes initiative, proactively problem solves challenges, generously shares her knowledge with peers, and demonstrates excellence in all aspects of her work. She is – as highlighted by nominations – universally praised for her organization, collaborative spirit, clear and warm communication, and the respect and empathy she shows everyone she interacts with. These traits have enabled to her to build a natural rapport with community stakeholders and research participants, which has greatly enhanced engagement.
Abbey has leveraged these strengths to lead the recruitment and coordination of three Youth Advisory boards, as well as PCRHP's Patient Stakeholder Group. She shows a genuine passion for creating inclusive and mutually beneficial community partnerships, and has collaborated with the Center for Community Engagement on their Community Engagement Toolkit, and is co-leading the FCM Research Community Engagement working group in an effort to provide resources to facilitate this. Her deep commitment to community health and social justice extends beyond our research program, as is evident through her work as a Bixby Center Advocacy and Communication Fellow, volunteer efforts outside of UCSF, and plans for the future.