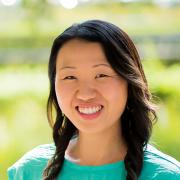 Monica Hahn, MPH, MS, MD
Associate Clinical Professor,
Family Community Medicine
Dr. Monica Hahn is an Associate Clinical Professor at UCSF in the Department of Family & Community Medicine. As a family physician, HIV specialist, and Clinical Director/Co-Principal Investigator of the Pacific AIDS Education and Training Center (PAETC), Monica's work centers around promoting health and wellness for HIV-affected families with an emphasis on integrating HIV prevention and treatment, as well as sexual and reproductive wellness, into primary care. Her clinical experience includes co-directing the Family HIV Clinic, a family-oriented HIV primary care clinic at San Francisco General Hospital's Family Health Center, and providing perinatal HIV care to people living with or affected by HIV as the Associate Medical Director at HIVE Clinic, also based at San Francisco General Hospital. Monica co-directs the PAETC-supported HIV specialty concentration training program for the UCSF Family & Community Medicine Residency Program. Her interests include integrating anti-oppression, cultural humility, and Critical Race praxis frameworks into medical education and training for students, residents, and interdisciplinary care teams. She serves as a research and career mentor to UCSF medical students as the Director of Inquiry and Evaluation for the PRIME Urban-Underserved program. Monica's inspiration for becoming a physician-advocate is rooted in her personal experiences and work experiences in public health and social justice activism. Her work has focused on addressing health inequities in HIV prevention and care for communities of color and developing strategies for dismantling systemic oppression and structural violence in healthcare systems to advance health equity for all. She completed her undergraduate degree at UC Berkeley with a major in Molecular & Cell Biology and a minor in Ethnic Studies. She earned her MPH at UC Berkeley's School of Public Health, and earned her MD/MS at UCSF School of Medicine, where she was a participant in the UCSF PRIME Urban-Underserved program. She completed residency training in Family & Community Medicine at UCSF/San Francisco General Hospital. Her interests include STI/HIV prevention and treatment, sex positivity, community-based participatory research and programming, health and social justice policy/advocacy, and advancing diversity, equity, inclusion and antioppression in medical education.